2020-10-20
Congratulations Ketterings!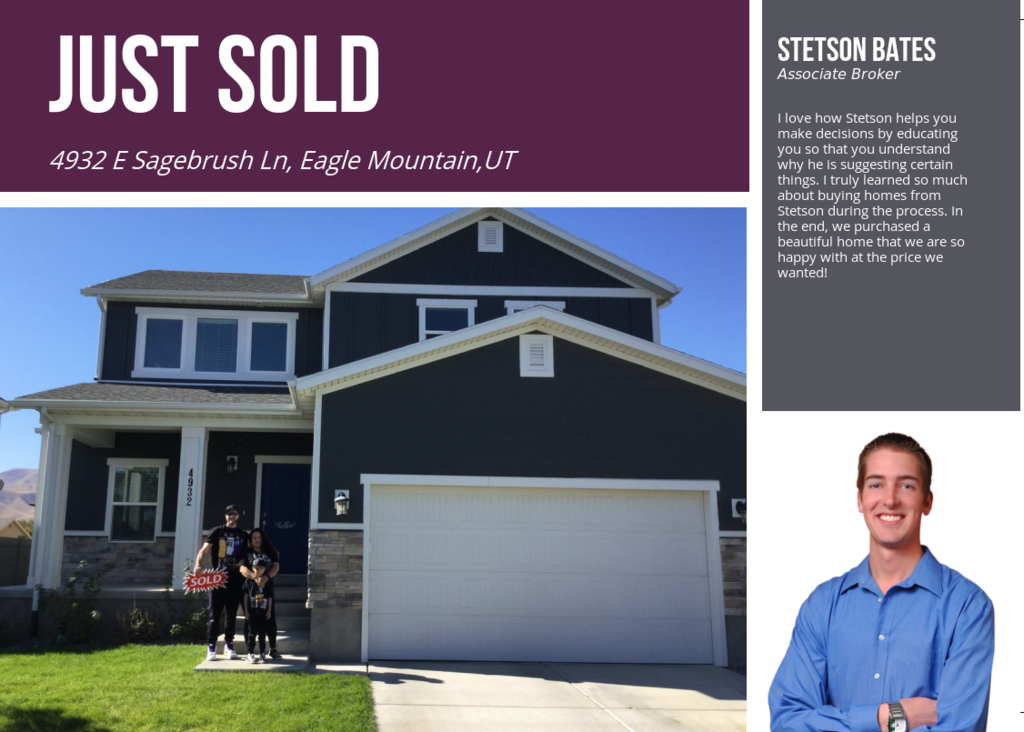 Congratulations to the Kettering Family on their new home! Here's what they had to say about working with our team:
"As a first time home buyer, I was a little overwhelmed with the home buying process. EveryUtahHome made the process so easy. I love how they have a team member focusing on each aspect of the process, so nothing is missed. Stetson showed us the homes we were interested in purchasing, and he was so awesome. Stetson did everything for us so we could focus and enjoy looking at homes. I love how Stetson helps you make decisions by educating you so that you understand why he is suggesting certain things. I truly learned so much about buying homes from Stetson during the process. In the end, we purchased a beautiful home that we are so happy with at the price we wanted and you can't ask for a better ending then that." C & S Kettering
Are you ready to buy or sell! Call or text us now and we'll help you get started!! Sandi - 801-367-7777 or Stetson - 801-367-8263

Subscribe to RSS Feed
Welcome to our Blog!
2021-01-05
Congratulations Rich Family!
2021-01-04
New Year, New Home?
2020-12-11
New Listing in American Fork!
2020-12-01
10 Ways to Give Back to Our Local Communities This Holiday Season
2020-11-19
Congratulations Hadfield Family!
2020-11-17
Utah Housing Statistics October 2020
2020-11-10
The New Normal: A Strong Housing Market Expected to Continue into 2021
2020-11-05
Just Listed in American Fork!
2020-11-03
September 2020 Utah Housing Stats
2020-10-20
Congratulations Ketterings!
2020-10-08
Which Would You Choose?
2020-10-06
Create the Home Office of Your Dreams
2020-09-30
Utah Housing Stats for August 2020
2020-09-22
Congratulations R Rhien!
2020-09-18
Move Up Vs Second Home?
2020-09-17
6 Tips Before Selling Your Home
2020-09-08
Just Listed in Eagle Mountain!
2020-08-27
July 2020 Utah Housing Stats
2020-08-26
Lowest Mortgage Rates in History!
2020-08-13
Congratulations Lee Family!
2020-07-30
We're Still Selling!
2020-07-28
June 2020 Housing Stats!
2020-07-21
Congratulations Lyons!
2020-07-16
9 DIY Improvements That Will Add Value to Your Home!
2020-07-14
Congratulations Perez Family!
Click here to see ALL articles.